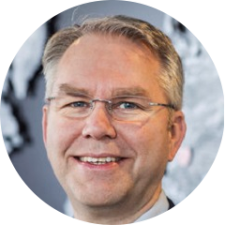 Dr. Rob van Eijk serves as the Future of Privacy Forum's Managing Director for Europe. In this role, van Eijk implements FPF's agenda in Europe. He oversees its day-to-day operations. He built and manages a small team in the Brussels office and manages relationships with stakeholders. Van Eijk is a technologist with an M.Sc. from the Leiden Institute of Advanced Computer Science, Faculty of Science, Leiden University, and a Ph.D. from the Institute for the Interdisciplinary Study of the Law, Leiden Law School, Leiden University, focusing on online advertising (real-time bidding).
Prior to serving in this position, van Eijk worked at the Dutch Data Protection Authority (DPA) as Senior Supervision Officer and (Lead) Technologist for nearly 10 years. He represented the Dutch DPA in international meetings such as the Technology Expert group of the European Data Protection Board (EDPB) and twice as a technical expert in court. He also represented all European Data Protection Authorities, assembled as the Article 29 Working Party (WP29), in the multi-stakeholder negotiations of the World Wide Web Consortium (W3C) on Do Not Track (DNT).
He was a guest professor at the Leiden University for three years (2021-2023). At the Leiden Centre of Data Science (LCDS), Faculty of Science, Leiden University, he developed and taught a lecture on Explainable AI in the Data Science Technical Track. And at the Centre for Professional Learning (CPL), Faculty of Governance and Global Affairs, Leiden University, he developed and taught nine lectures in the Leiden Legal Technologies Program.